COVID-19 Testing & Vaccinations
Scenic Mountain Medical Center
COVID-19 Vaccination
COVID-19 Vaccination
COVID-19 VACCINE STATUS: AVAILABLE
COVID-19 Vaccination
1601 W. 11th Place
Big Spring, TX 79720
432-263-1211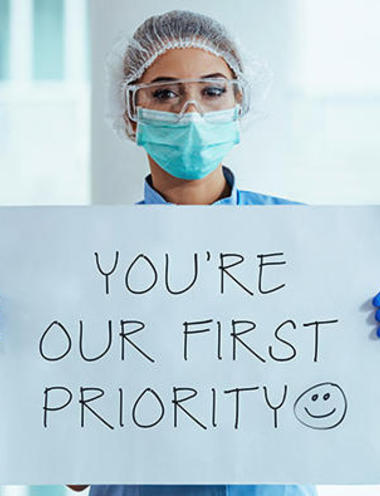 Who is eligible to receive the vaccine?
Effective March 29, 2021,the COVID-19 Vaccination opened to All Adults in Texas. 
Please note the age requirement for the Pfizer vaccine is 12 and older, and for the Moderna vaccine is 18 and older.
What is the cost for the Vaccine?
The vaccine is free of charge while supplies last. Please check vaccine availability before coming to the hospital, located at the top of this webpage. Please discuss any concerns of receiving the vaccine with your Primary Care Doctor.
Where to get the vaccine
Upcoming Community Vaccine Clinics
1st and 2nd Doses -Thursday, August 12, 2021 
3:00 pm to 6:00 pm
Scenic Mountain Medical Center - Whatley Plaza
(North Driveway Entrance on Martin Luther King Blvd)
1601 W 11th Place Big Spring, TX 79720
Vaccines will be offered on a first-come-first-served basis and will be administered while supplies last. You will receive a separate appointment for the second dose. 
Vaccines By Appointment
Vaccines may also be scheduled by appointment at Scenic Mountain Medical Center. To schedule, call 432-268-4729. If you reach the voicemail, please leave a message regarding your interest in scheduling a COVID-19 vaccine and a staff member will follow up to schedule a date and time for your vaccine.
About the Moderna Vaccine
The Moderna vaccine (mRNA-1273) was granted Emergency Use Authorization (EUA) by U.S. Food and Drug Administration's vaccine advisory committee on December 17, 2020. EUA allows for the use of medical countermeasures, including vaccines, during public health emergencies, such as the current COVID-19 pandemic. Under an EUA, FDA may allow the use of unapproved medical products, or unapproved uses of approved medical products in an emergency to diagnose, treat, or prevent serious or life-threatening diseases or conditions when certain statutory criteria have been met, including that there are no adequate, approved, and available alternatives.
Moderna includes a 2-dose schedule taken approximately four weeks apart. The Moderna vaccines proved to be approximately 95% effective in preventing COVID-19 in its vaccine trial of 30,000 individuals in 89 different clinical sites covering 32 U.S. States. According to the CDC, Messenger RNA (mRNA) vaccines carry genetic material that teaches our cells how to make a harmless piece of "spike protein," which is found on the surface of the SARS-CoV-2 virus. These do not affect our DNA and cannot give the vaccine recipient COVID-19, though side reported side effects include fever, headache and muscle aches. Other mRNA vaccines have been studied for influenza, Zika, rabies, and cytomegalovirus (CMV).
Learn more about the Moderna vaccine on the CDC website.
About the Pfizer Vaccine
Effective May 10, the U.S. Food and Drug Administration expanded the emergency use authorization (EUA) for the Pfizer-BioNTech COVID-19 Vaccine for the prevention of coronavirus disease 2019 (COVID-19) caused by severe acute respiratory syndrome coronavirus 2 (SARS-CoV-2) to include adolescents 12 through 15 years of age. The FDA amended the EUA originally issued on Dec. 11, 2020 for administration in individuals 16 years of age and older.
The Pfizer-BioNTech COVID-19 Vaccine vaccination series is 2 doses given 3 weeks apart. If you receive one dose of the Pfizer-BioNTech COVID-19 Vaccine, you should receive a second dose of this same vaccine 3 weeks later to complete the vaccination series. Learn more about the Pfizer vaccine on the CDC website.