Our imaging includes some of the most advanced medical equipment in use today, with digital systems providing higher quality images and faster retrieval. For the convenience of our patients and their referring physicians, we provide easy and flexible scheduling (including some walk-in appointments), comfortable waiting areas and prompt delivery of test results.
Diagnostic Imaging
Today's advanced imaging technology makes it possible to see inside the human body more clearly than ever before. Our sophisticated equipment enables doctors to diagnose and treat disease faster and with even greater accuracy. In addition, all of our systems are digital, enabling us to provide higher quality images and faster retrieval.
64-Slice CT Scanner
MRI (Magnetic Resonance Imaging)
Nuclear Medicine
General X-ray
Radiographic/Fluoroscopic (R&F) Unit
Mammography
Ultrasound
How to Prepare for Your Imaging Procedure
If you have a scheduled appointment, please discuss the procedure and any special instructions with your doctor before you arrive. If a test is ordered while you are a patient at the hospital, your physician, nurse, or technician can explain the procedure and answer any questions you have.
These general guidelines will help you prepare for and stay comfortable during your procedure:
Wear loose-fitting clothes. Don't wear items containing metal. You may be asked to change into a hospital gown. In some cases, you may be asked to remove jewelry, watches, hairpins, eyeglasses, or dentures.
Some tests require that you go without eating or drinking for a specified time beforehand. Be sure to ask your doctor about this at least 24 hours before your procedure.
Tell your technologist if there is any chance you may be pregnant or if you are breastfeeding.
Tell your technologist if you are allergic to shellfish or iodine.
Some procedures require you to remain still for a period of time. Your technologist will explain what you need to do for a successful procedure.
Philips Ingenia Ambition 1.5T MR system
Fast scans. Exceptional quality. Unmatched experience.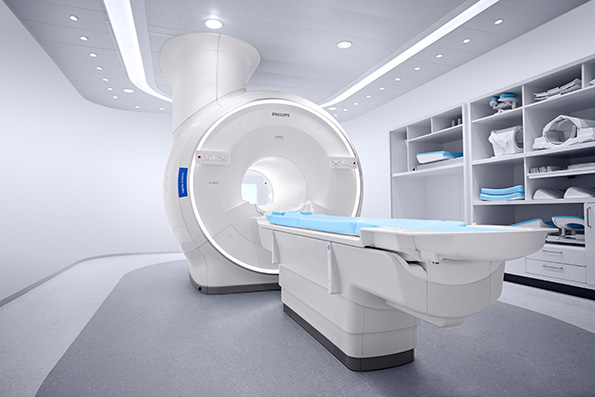 Has your doctor ever recommended that you get an MRI (magnetic resonance imaging) exam? Or are you simply curious about this safe imaging test?
There's no better place to schedule an MRI exam than Scenic Mountain Medical Center. That's because we've acquired the Philips Ingenia Ambition 1.5T, the first-ever digital broadband MR scanner with a truly unique patient experience. This revolutionary system delivers superb image resolution, fast exams, a more open patient experience, and a first-of-its-kind audio component designed to help you relax.
Our new MR system is not only minimally invasive, it's minimally intimidating. It was designed for patient comfort and features like ComforTone and the in-bore experience provides audio enhancements designed to reduce patient anxiety.
It's fast. Our Ingenia Ambition 1.5T can scan patients of varying size, age, and medical condition in less time than previous MR systems on the market. Routine exams of the brain, spine, knee, ankle, and liver are quick and easy. And even more complex scans may only last 15 to 40 minutes.
It's comfortable. Our revolutionary new Philips Ingenia Ambition 1.5T has a wide-bore opening designed to make you feel less confined. In fact, most scans can be done with your head completely out of the system. These features combined with the in-bore experience will help you relax and enable your doctor to obtain the images they need on the first scan.
It's accurate. The Philips Ingenia Ambition 1.5T delivers the revealing images your doctor needs to help diagnose your medical condition correctly. This makes it easier for your doctor to identify and pinpoint any potential problems and helps reduce the number of repeat exams.
The right choice for imaging. Philips Ingenia Ambition 1.5T is one more reason to ask your doctor about scheduling your next diagnostic imaging exam at Scenic Mountain Medical Center.
Resources
Top 7 Preventative Health Screenings for Men

Having regular check-ups and getting preventive screening tests are important steps that all men can do to keep their health in tip-top shape. Preventive screenings are tests that look for diseases before you have symptoms. Screening tests can provide critical information to help prevent serious medical problems and find diseases early, when they're easier to treat.