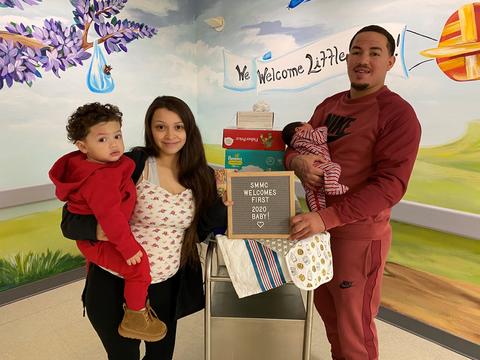 BIG SPRING, Texas- Saturday, Jan. 4, 2020 – Scenic Mountain Medical Center is proud to share that the first baby of the New Year was born at 10:00 am on January 4, 2020. The baby boy named Zayvian Cross was 8 pounds 7 ounces and 20 inches long. His parents are Terrence Cross Jr and Miranda Hilario.
A baby gift basket was presented to the parents and the partners and sponsors of this basket included a Frida pacifier and blanket from Krazy Kow Boutique, burp cloth and bib from The Wardrobe, newborn photo session and print package from Abstract Photography, scholarship for the fall and spring semester, baby onesie, and chocolate bar from Howard College, two blankets, hat and mitten sets from the Scenic Mountain Medical Center Volunteers, and a box of diapers, baby monitor, and tummy mat from The Life Center.
About Scenic Mountain Medical Center
Scenic Mountain Medical Center is a community health care provider serving patients in Howard County. An acute care hospital with 146 licensed beds, Scenic Mountain is Joint Commission accredited. Our specialized services include cardiology, orthopedics, maternity, diagnostic imaging, emergency care with a 24/7 level IV Trauma Center, wound care, and women's health and breast care services.
About Steward Health Care
Steward Health Care is the largest private, tax-paying physician-led health care network in the United States. Headquartered in Dallas, Texas, Steward operates 37 hospitals in the United States and the country of Malta that regularly receive top awards for quality and safety. The company employs approximately 42,000 health care professionals. The Steward network includes multiple urgent care centers and skilled nursing facilities, substantial behavioral health services, over 7,900 beds under management, and approximately 2.2 million full risk covered lives through the company's managed care and health insurance services.