Scenic Mountain Medical Center Treats Veterans to Free Meals on Veterans Day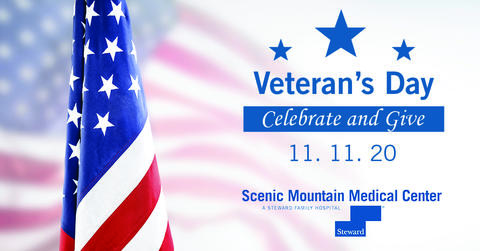 In honor of Veteran's Day, Scenic Mountain Medical Center (SMMC) will provide hot meals and care packages for Veteran's on Wednesday, November 11th from 11:30 a.m. to 1:00 p.m. This year, since our café is closed to the public, SMMC will provide a drive-thru for curbside pick-up outside the hospital located 1601 W. 11th Place in Big Spring.
"At Scenic Mountain Medical Center, we are grateful for the sacrifices that our veterans have made to serve our country," said Stacey Brown, president of Scenic Mountain Medical Center. "On Veteran's Day and throughout the year, we are proud to support our veterans and their families, and we honor all those who have bravely worn the uniform with this small token of appreciation."
Veteran's will be asked to stay inside their vehicle as they receive individually packaged lunches from members of the Scenic Mountain Medical Center staff. The meal will include BBQ beef brisket with baked beans, potato salad, coleslaw and banana pudding for dessert.
The Veteran's Day care packages will include donated items from various community organizations such as Encompass Home Health, Kindred At Home Personal Home Care, Oceans Behavioral Hospital, Parkview Skilled Care & Rehabilitation, and Lamun-Lusk-Sanchez Texas State Veterans Home.