Scenic Mountain Medical Center Puts Focus on Patient Safety and receives a 'B' in the Fall 2020 Leapfrog Hospital Safety Grade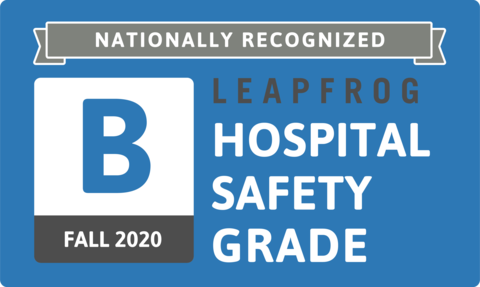 The Leapfrog Group, a Washington D.C-based organization aiming to improve health care quality and safety for consumers and purchasers, today released new Leapfrog Hospital Safety Grades, which assign A, B, C, D and F letter grades to hospitals nationwide. Scenic Mountain Medical Center received a B for the Fall 2020 Safety Grades. 
"Our focus is safety," said Dr. Rohith Saravanan, chief medical officer at Scenic Mountain Medical Center. "If we start there, patient experience will take care of itself, quality metrics will take care of itself, as will employee morale. We don't see quality as just a clinical goal. It's an enterprise-wide priority that encompasses customer service, compliance and wellness."
Developed under the guidance of an Expert Panel, the Leapfrog Hospital Safety Grade uses 28 measures of publicly available hospital safety data to assign A, B, C, D and F grades to approximately 2,600 U.S. hospitals twice per year. It is calculated by top patient safety experts, peer-reviewed, fully transparent and free to the public.
"Our goal is to inform patients about local hospitals with the best safety measures in place and the strongest records," said Leah Binder, president and CEO of The Leapfrog Group. "Every hospital can earn an 'A' grade, and we're proud of the hospitals that are committed to making an effort to protect patients from harm."
To see Scenic Mountain Medical Center's full grade, and to access consumer-friendly tips for patients, visit www.hospitalsafetygrade.org and follow the Leapfrog Hospital Safety Grade on Twitter and Facebook..
About The Leapfrog Group
Founded in 2000 by large employers and other purchasers, The Leapfrog Group is a national nonprofit organization driving a movement for giant leaps forward in the quality and safety of American health care. The flagship Leapfrog Hospital Survey collects and transparently reports hospital performance, empowering purchasers to find the highest-value care and giving consumers the lifesaving information they need to make informed decisions. The Leapfrog Hospital Safety Grade, Leapfrog's other main initiative, assigns letter grades to hospitals based on their record of patient safety, helping consumers protect themselves and their families from errors, injuries, accidents, and infections.
About Scenic Mountain Medical Center
At Scenic Mountain Medical Center, we are committed to caring for patients as we would our own families. We are a full service, acute care, 146-bed community hospital for adults and children, and we understand the importance of delivering world class health care along with the latest advances in technology and treatment options. Our specialized services include cardiology, orthopedics, maternity, diagnostic imaging, emergency care with a 24/7 Level IV Trauma Center, wound care, and women's health and breast care services.
About Steward Health Care
Steward Health Care is the largest private, tax-paying physician-led health care network in the United States. Headquartered in Dallas, Texas, Steward operates 37 hospitals in the United States and the country of Malta that regularly receive top awards for quality and safety. The company employs approximately 42,000 health care professionals. The Steward network includes multiple urgent care centers and skilled nursing facilities, substantial behavioral health services, over 7,900 beds under management, and approximately 2.2 million full risk covered lives through the company's managed care and health insurance services.