Scenic Mountain Medical Center Hosts Virtual Lecture on Prenatal Care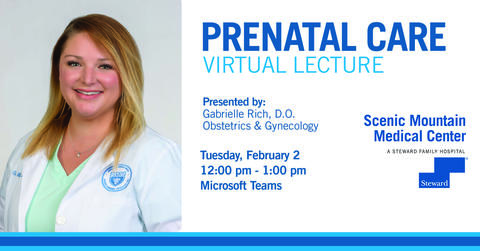 Scenic Mountain Medical Center invites the community to attend a virtual lecture to discuss Prenatal Care on Tuesday, February 2 from noon to 1:00 pm. The lecture will be led and presented by Gabrielle Rich, D.O. in Obstetrics and Gynecology.
Prenatal care helps prevent complications and inform women about important steps they can take to protect their infant and ensure a healthy pregnancy. Doctors can spot health problems early when they see mothers regularly. This allows for early treatment, which can cure many problems and prevent others. In this lecture, Dr. Rich will cover many important areas of Prenatal Care and offer answers to commonly asked questions.
Viewers can join the live stream and submit questions to be answered at the conclusion of the event using this Microsoft Team invite link below:
Prenatal Care Virtual Lecture
This event is free and open to the public. Once the event is completed, those that are unable to attend the live stream may view the recording using the same link to watch at a later date. To learn more about Dr. Rich, click here.